Drivelab Stockholm
SCANDINAVIA'S MOST IMPORTANT TEST SITES FOR THE ENTIRE AUTOMOTIVE INDUSTRY
"WE AREN'T JUST GOING THROUGH THE MOTIONS WE ARE DRIVING MOTION"
DRIVELAB Stockholm is the inspiring venue where today's automotive industry gets acquainted with tomorrow. A think tank with unique environments for testing where industry, authorities, research institutes and educators interact creating better understanding, better solutions and a better and safer automotive industry.
DRIVELAB is an incomparable development with access to more than 80 acres, in touch with the elements in the Swedish woods two minutes from Stockholm Arlanda Airport and 20 minutes from Stockholm.
Due to the broad range of opportunities DRIVELAB Stockholm offers this is a meeting place where companies and other stakeholders can create clusters and have access to an area with state-of-the art testing facilities, training academy and a modern hotel and service point for vehicles all furthering the development of tomorrows automotive industry.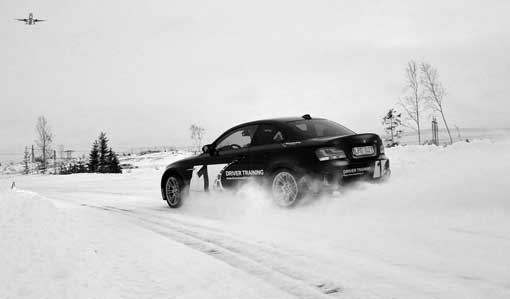 TEST TRACK 1
Test Track 1 is the ultimate Test Track, constructed from the driver perspective. On 920 meters a variety of tests can be performed simultaneously optimizing the learning curve of the drivers.
TEST TRACK 2
Test Track 2 is a complete and challenging facility for safer and better driving. The track is developed based on the challenges emergency vehicle drivers face and is constructed to resemble the Swedish road network.
TEST TRACK TERRAIN
A off-road track will be available during 2017 in DRIVELAB. This track is a complement to Test Track 1 and 2 and will enable testing and launches of SUVs and similar vehicles.
DRIVELAB CENTER
DRIVELAB center is the heart of DRIVELAB Stockholm. A training center with meeting and training facilities located close to the test tracks.
DRIVELAB HOTEL
To ensure growth and good service to companies already established in DRIVELAB and new establishments a modern hotel has been developed in DRIVELAB close to both DRIVELAB Center and the Test Track 1 and 2.
DRIVELAB SALES & SERVICE
A Service point is in the making. Here maintenance och commercial business will provide a nearby facility for vehicles within DRIVELAB. Examples of sales & services you will find here are repairs and car dealers.
DRIVELAB BIG
A concept and a venue that focuses on and is designed for large vehicle located at the new exit from the E4..